It is no secret corporate video production is complicated, time-consuming and needs lots of patience.  You cannot create a corporate video just by purchasing a video camera.  The video production process requires organization, and a multitude of talents to coordinate each production and deliver a finished product that is polished and professionally produced. When you are required to create original content to engage the audience, and showcase your business you should avoid cutting corners.
To ensure your corporate video is successful in achieving its objective it's best to hire one of the experienced professional video production company NYC for all your video needs. Here are a few reasons why hiring a professional company for video production is worth your investment.
Have Professional Tools and Resources
Professional video production companies have all the required tools such as high definition video cameras, audio gear, lighting equipment and editing programs for post-production work.
These companies also have trained and experienced professionals who know how identify, organize, and orchestrate the production and use these professional tools effectively to create beautiful videos that are aligned with your business objectives.
Knowledge of Video Marketing Strategy
According to Wordstream survey, 87% of online marketers use video content. Thus, you can see the increased competition in video marketing. Professional video production companies have in-depth knowledge of developing effective marketing campaigns and producing creative video content for it.
Create Quality videos
Video production studios can work with your organization to create content for a new marketing campaign or existing campaign. An experienced corporate video producer and videographer team has the eye for identifying a perfect shot. Further, the right producer will be able to work with your team to get everyone comfortable on camera for interviews and guide the production from start to finish.  That also means, that he/she not only knows work behind the camera, but is also an expert in the editing room.
If you consider creating corporate videos in-house, it will be difficult to arrange all required professional tools and resources. Also, if your business is not related to video production, it will be a difficult task to find staff that has the right level of experience and knowledge to handle such professional tools. This cost saving exercise will only lead to wasting of funds and time and the result will be poor quality video.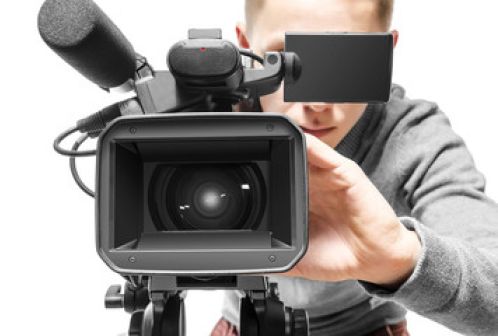 Keep in mind that the videos you produce are a reflection on the organization and the brand, so it's important to treat the production of these video assets with attention to detail.
Budget
Working with a professional video production company is a perfect example of "big bang for the buck". They can help you create a video that is exactly what you are looking for and that is within your budget. If you do the video production in-house, there is more risk of budget overruns; whereas a professional video production services company can often provide you with a flat-rate for your video production.
Without any knowledge and experience, it will be tough for your in-house team to determine the exact budget for the corporate video project. Your company will also be required to purchase expensive video cameras and editing equipment that will remain unused after completion of the project. This is nothing but a waste of funds.
When you hire a professional video production company, you don't need to invest in equipment or hire professionals as the company already has the tools and experts required for a successful corporate video production. In fact, hiring a professional video production company may cost you less in comparison to planning video production in-house.
Originality
Professional videos production companies are experienced at working with a variety of clients so they know what works and what doesn't. They are aware of the new trends in video marketing and they can suggest a comprehensive strategy that weill allow you to fully leverage video as part of your marketing campaign.
Professional videographers know very well what kind of videos work on different digital platforms. Their years of experience gives them knowledge to help you create original and creative content that can go viral on digital platforms.
Know How to Tell a Compelling Story
A corporate video is nothing, but a (short or long) story to engage users. Video creators usually have a limited window within which to engage an audience. Working with a corporate video producer will help you to identify a story that will be engaging and capture your audience's attention.
Equipped with right skills, knowledge, and experience, professional video producers know how to tell a compelling story.  An experienced corporate video production company will be able to work with you to develop that story and determine if long or short form is best for your message and target audience.
According to Wordstream survey, videos on your landing page can increase conversions by 80%. Also, 51% of marketing professionals agree that video marketing offers the best ROI. Hence, you need to play it safe by hiring a pro video production company to create a corporate video.